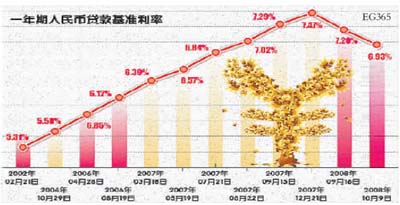 China, following other economies, cut the benchmark deposit and lending rates by 0.27 percentage point Wednesday to anchor its economy amid a worsening global financial crisis.
The reserve requirement ratio, or proportion of money commercial banks must set aside in reserve, will also be slashed by half a percentage point from Oct 15, the People's Bank of China said Wednesday on its website.
The move will help prevent economic growth from declining as the global financial market turmoil is believed to further cut into world growth, which in turn will reduce demand for Chinese exports, analysts said.
The interest rate cut will take effect from today, when the cost of one-year bank loans will fall to 6.93 percent from 7.20 percent, while the benchmark one-year deposit rate falls to 3.87 percent from 4.14 percent.
The reserve requirement ratio would be 17 percent for big banks and 16 percent for others.
The State Council, China's Cabinet, also said it would scrap the 5 percent individual income tax on interest on savings starting today to boost domestic demand.