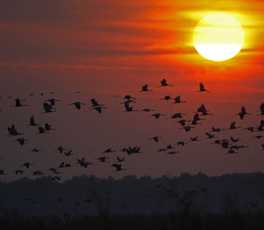 HONG KONG -- Japan's stock market soared in early trading Tuesday, leading a second-day rally in Asian stocks after Wall Street staged a dramatic comeback from its worst week ever.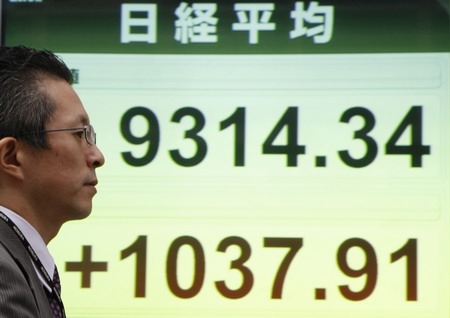 A businessman passes an electronic board displaying the Nikkei share average in Tokyo October 14, 2008. The Nikkei stock average surged 13 percent on Tuesday, making up for its worst one-day loss since the 1987 stock market crash. [Agencies]
Sparked by global efforts to fix the world's crippled financial system, Tokyo's benchmark Nikkei 225 index jumped 1,079 points, or 13 percent, to 9,355. The Japanese financial markets were playing catch-up because they were closed Monday for a public holiday.
In Australia, the S&P/ASX200 index traded more than 5 percent higher after the government announced plans to inject 10.4 billion Australian dollars ($7.4 billion) to strengthen the country's economy.
Markets in South Korea, Singapore, New Zealand and China's Taiwan Province also climbed 5 percent or more.
The advance came after the Dow Jones industrial averages on Monday gained more than 11 percent, its biggest one-day rally since 1933.
Traders reacted with relief moves by the US government to inject capital into major banks and get lending flowing again among companies. That followed signals that European governments were putting up nearly $2 trillion to safeguard their own banks.
"The governments are ensuring that no matter what happens they're not going to allow another major institution to fail," said Nicole Sze, an investment analyst at asset manager Bank Julius Baer & Co. in Singapore. "What's happened in the last 48 years is an extremely positive development. ... You're seeing a reversal of the panic selling, and we think a temporary bottom has been found."
In Europe on Monday, Germany's DAX ended up 518.14 points, or 11.4 percent, at 5,062.45, while France's CAC-40 finished 355.01 points, or 11.2 percent, higher at 3,531.50.
Britain's FTSE 100 gained 324.84 points, or 8.3 percent, to 4,256.90, despite some hefty falls in the banks that have accepted government help. The strong showing follows sharp falls in stock indexes worldwide last week, and as interbank interest rates remain abnormally high.